TwitterFon - The best Twitter App on the iPhone
I've been using Twitteriffic on the iPhone since it was released. Sure, I've tried the others - Twittelator Pro and Twinkle - but neither of them were as comfortable as Twitteriffic to me.

A couple of days ago I was looking at the new apps in the iTunes App Store and stumbled across TwitterFon. It is simple, fast, and useful. It doesn't do pictures, it doesn't update your location, but it does what it does well.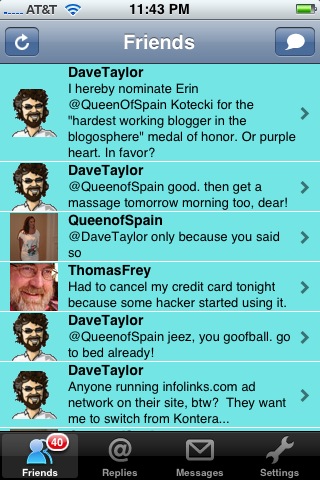 You can see the tweets of your friends of course, your replies, and your messages. Your friend's stream is two shades of blue - darker blue is unseen, and lighter blue is previously seen.

TwitterFon keeps lots and lots of history too which is something Twitteriffic doesn't do. There's even a "Load all stored Tweets" option at the bottom of the list if you need more.

I like it a lot. You should give it a shot. Simple, fast, and cheap.

Download it here: TwitterFon - Version 1.1, Free