A PC in the living room? Here are the Basics
Unless you're a live sports fan, Cable and satellite subscriptions are no longer required. Internet sources in the living room are becoming a common means of video entertainment - most TV shows, from today's popular hits to classic TV shows are available for viewing online. Movies of all kinds are available for rent (or purchase), without the hassle of the local video store. A few clicks with the right setup will put you square into video heaven - legally too!

I'd like to help you with the process, if even just to experiment. My bet is that you're going to love it. We made the switch and have never looked back.

A Display.

You'll need a display with an input that your computer can use. I use the term "display" because it helps to think of your TV (plasma, LCD, etc.) simply as a monitor for the computer in the living room. Once you get accustomed to this setup, referring to it as "television" just won't make sense. There is no broadcasting going on here, or airwaves for that matter.

So how do you connect the display to the computer in the living room? Our display has HDMI[1] and Component[2] video inputs. Many late model displays also have a "PC" input - a standard VGA[3] connection. You'll need a cable that connects your computer to the the input on your TV. We use an HDMI to DVI[4] cable to make our connection. Leave a comment if you need help figuring out exactly what you need, though HDMI to DVI is pretty common.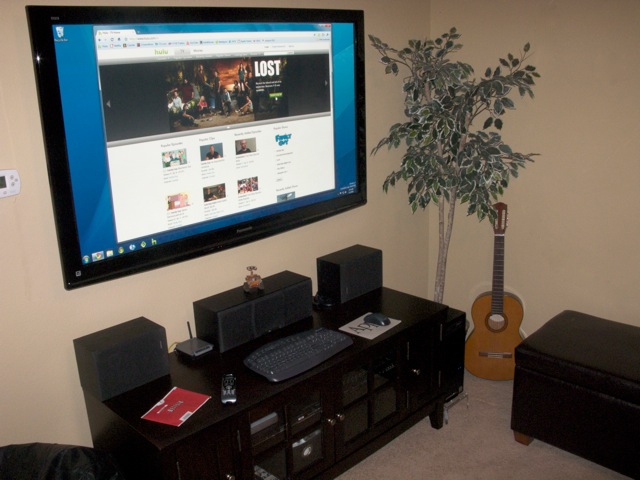 Our Panasonic VIERA S1 Series 65" Plasma
, with a homemade PC running Windows 7 ultimate.


The Computer.

Choosing a computer for the living room will likely be the hardest part of the process. I've seen everything from an Apple Mac mini
, to a dedicated MacBook. Some people just connect a laptop to the display when they want to watch internet based content. The computer we use is a custom built PC running Windows 7 Ultimate. This choice usually comes down to what you're willing to spend though. What's your budget? Do you have a PC sitting in the closet collecting dust because you switched to a Mac? Use that, it will likely do the trick.

Got Content?

Once you get everything connected, you'll want some great content to explore. Here are a few of our favorites. Don't forget to click the "full screen" icon available in most players.

Boxee: Boxee is an application that provides access to a variety of video (and audio) source on the internet. It's objective is to create a common interface to the sources, allowing people of all skill levels to enjoy it. There's also a social aspect with friends, sharing, and more (my screen name is msitarzewski. Price: FREE.

Hulu: Current TV shows from the major networks (CBS, ABC, NBC, and Fox) as well as a library of full length movies, and a really nice selection of older TV shows. Hulu also has a desktop application with a nice interface for exploring their content. Price: FREE.

Netflix: Netflix has a really nice library of "Watch Instantly" movies, from recent releases to a huge archive of older classics. We subscribe to the smallest package that has unlimited streaming ($9/mo). That price point also entitles you to one DVD through the mail at a time. The DVD by mail option is fantastic for current releases. Price: $9/mo and up.

Amazon VOD
: Amazon VOD (Video On Demand) has a great selection of movies to rent (from $2.99 in most cases). You can watch them in the browser, or download them to your computer to watch later. Many newer Blu-ray players and TVs also have access to Amazon VOD rentals (and purchases). Price: $2.99 to $3.99 to rent standard definition movies. Purchase prices start at $5.

1. HDMI. 2. Component Video. 3. VGA. 4. HDMI to DVI